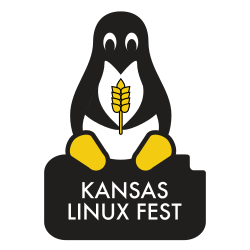 Kansas Linux Fest 2016
Kansas Linux Fest is a yearly conference dedicated to free and open source software as well as open knowledge and education. In 2016, Kansas Linux Fest will be coming to Wichita, KS!
When and where?
The conference is set to take place on the dates of May 21 - 22 on the campus of Wichita State University in Hubbard Hall; we have a Google map made up to guide you and a detailed map for WSU parking. If you need over-night travel accommodations, the Courtyard Wichita at Old Town has a few rooms with special rates. We also have an evening showing of Revolution OS on Friday, May 20, in Hubbard Hall room 209 at 7:00 PM. Kansas Linux Fest 2016 is a free event, but we ask you to please register!
For Lunch on Saturday we have a number of dining discounts offered around Wichita. Just make sure to take your name tag or present a copy of the linked PDF to receive these offers.
Koch Industries is sponsoring a Sunday, May 22, breakfast buffet at WSU from 8:00 to 8:50. Registration for this event is required for each person, so please head over to our breakfast registration page to sign up!
Join us on our local IRC server over at irc.kansaslinuxfest.org! All you need to do is type in a nickname and hit 'Start...' to join in.
We'll be sure to update this site with the most current information, so make sure to check back for updates!
In the meantime..
New Update!
Stay updated!
To be quickly informed on updates to the event, join the mailing list by sending an email to news-subscribe@kansaslinuxfest.org.